Even though your stay
at Hana Kai Maui includes a full kitchen, there are times when you'll want to
eat locally. While one of Hana's appeal is its small, somewhat isolated nature,
that doesn't mean you can't find a variety of great food.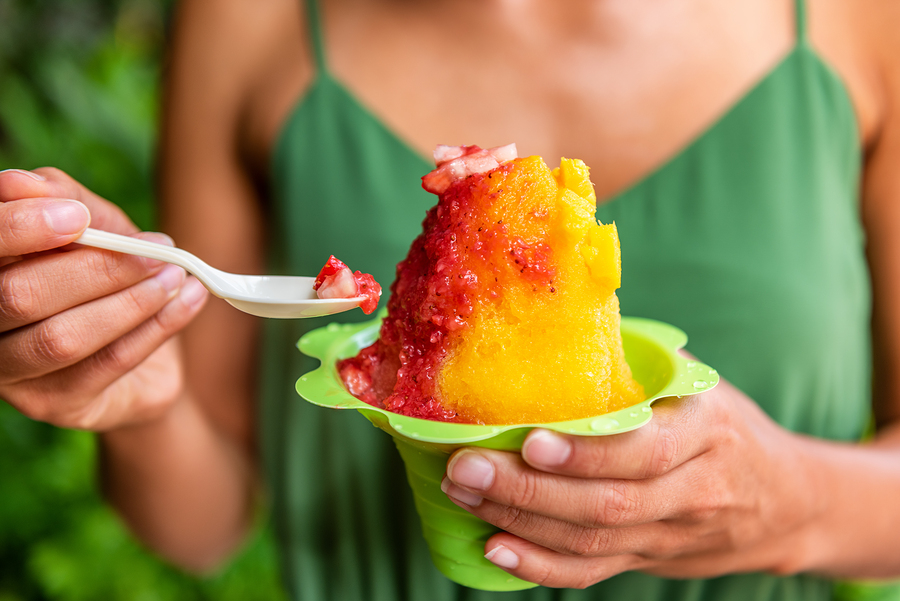 First Question: What Do You Want To Eat?
It's not all coconuts
and pineapple here, you know. But it does figure into the cuisine.
You can actually find
BBQ, Mexican, Thai and even Ethiopian food here, as well as traditional
Hawaiian food. Maybe you won't feel like you're in Texas having BBQ, but you
certainly won't be disappointed. Seafood is also readily available, because we
are, after all, right on the coast, so
feel free to consider seafood if you're a fan.
BBQ
Hawaii isn't exactly
known for BBQ, and it's a long way from Texas. But you can find BBQ as well as
Hawaiian food at Bradda
Huts BBQ Grill.
Located at 5303 Hana Highway near the Mo'Omo'Oumi Gulch, it's only open from
10:30 to 2:00 pm. But BBQ and "Island Style Cuisine" is right at the sign that
says "Last Food Stop." The menu is simple, but full of flavorful BBQ chicken,
pork, and ribs, along with grilled Mahi-Mahi, fish tacos and shrimp or chicken
pasta.
This family-owned
place isn't the fancier place you'll see in Maui or Honolulu. But it's one of
those "native" places you don't see in the tourist literature. The delicious
food is what keeps people coming back for more.
Local Harvest
Hana Farms is a restaurant and a farmer's market, specializing in farm-to-market foods that are grown and sourced locally and sustainably. Plate lunches, taco plates, full meal salads and burger/sandwich plates featuring bread baked right on the farm. Rounding out the menu are the local fresh fruit sparkling sodas that are also farm-made.
The Harvest Salad
features salad greens grown on the farm, as well as seasonal vegetables, along
with tomatoes, cucumbers, avocado, purple sweet potatoes and pumpkin seeds.
Local fish or pulled pork can be added for an additional charge.
Thai Food
Of all the surprising
eating establishments, Thai food is not what you'd expect in a remote city in
Maui, but it's here.
Thai Food By Pranee is
one of the many food stands in and around Hana that offer freshly made food
with locally sourced ingredients.
From well-known
favorites like spring rolls, stir fry and beef with broccoli to pad Thai and
stir-fried Mahi with cashews, there's a wide range of delicious food here. Add
a glass of refreshing Thai Iced Tea with your meal for a complete Thai dinner.
It's located at 5050
Uakea Rd, but you must arrive before 4 pm. (There is an extra charge of $1 for
payments done with Square.)
Food Trucks
You wouldn't think
that the food truck trend had made it out to the Road to Hana, but it has.
Somewhere between mile markers 7 and 8 is a little place called the Rustbucket.
Most days. Warning: they're open until the food runs out, usually about 2 in
the afternoon.
This little truck sits
among the lush greenery of Hana, where you can enjoy plate lunches big enough
for two. The food is all cooked over guava wood, and is served on banana leaves
with sugarcane chopsticks—no plastic here. The menu features BBQ chicken and
pork, along with caramelized bananas, rice, and fresh local pineapple. The
owner also hunts the food he cooks and serves, including the Hawaiian pork.
Their banana bread is legendary, and sells out quickly. Add a refreshing
coconut coffee, and you've got an unforgettable Hana meal.
Hana Kai Maui Condominiums

Dinner out can be delicious, but expensive. With some available pantry staples, you can cook in your own place on the beach and enjoy a relaxing, home-cooked meal on vacation. 
Whether you want to
stay a short time, or a longer time, we make it easy to visit Hana. We have studio-sized
to two-bedroom condos with full kitchens and other amenities to make your stay
comfortable and memorable. Call to book your next reservations at
1-800-346-2772, or book
directly online.
We're open 8:00 am to 8:00 pm Hawaii time to answer all of your questions.