We enjoy talking about all the activities available on Maui. Surfing, swimming, snorkeling, walking, hiking, boating, fishing, and other Valley Isle visitor activity can be physically demanding. The idea of a Maui spa day might not be the first reasons you visit us in Maui, but it's certainly a wonderful available option.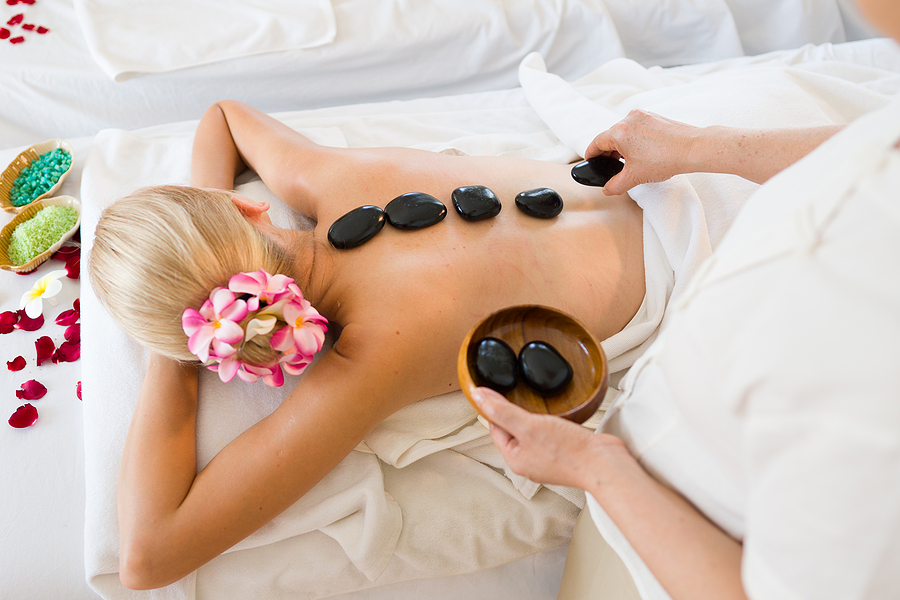 So after a day, a weekend, or even a week of going all-in on Maui, a massage, hot stone therapy or other soothing spa therapeutics can send you back to the Mainland looking and feeling like you really enjoyed your stay. Although many of the big hotels have spas in-house, Maui is also home to many local spas that can offer a wide range of services. Whether you visit on your own or want a spa for couples, you can schedule a Maui spa day any time you're ready. These are just four of the most popular spas on Maui.
Ho'omana Spa Maui
Incorporating Lomi Lomi, an ancient Hawaiian healing massage, into their services, Ho'omana Hawaiian Healing Spa offers several types of massages and other services. They also use their own exclusive line of small-batch Hawaiian-made products which are also available to buy and use at home. If you're having your wedding in Maui, Ho'omana also offers a couples retreat package that includes side-by-side massages and other healing therapies.
The spa also teaches Lomi Lomi in its education center to anyone interested in learning. From a few days to a month-long retreat, anyone can learn Lomi Lomi to help others with healing. Ho'omana Spa is located at 1550 Piiholo Rd, Makawao, Maui, and is the #1 ranked spa in Maui on TripAdvisor.
Mina Massage Therapy
Mina Massage Therapy. Located in Lahaina in West Maui, and open by appointment only, Mina Massage Therapy offers a variety of massage types including Swedish, Shiatsu, Sports, and Lomi Lomi. Owner Mina Moghadam also offers a couples massage package along with Botox and HydraFacial skin treatments. You can quickly book your session online for the best availability.
Shayla Massage
Shayla Massage. Between Piilani Blvd (Highway 31) and the beach on the lower west coast of Maui is Shayla Massage, a place where locals and tourists alike can visit for not just a massage but healing. Owner Shayla Middleton offers a healing touch whether you're interested just in massage or need more in the way of pain therapy through Lua Lomi healing. This is a form of deep tissue massage that uses motion rather than pressure with no pain involved.
Calling it "bodywork infused with Aloha," Shayla's services are tailored to your specific needs. She has over 30 years of experience helping people feel better and work towards becoming pain-free. Shayla Massage is located at 2690 Kauhale Street in Kihei, and you can make your appointment online.
Zensations Spa
Zensations Spa. Don't be dissuaded by the strip mall location. Zensations Spa offers one of the widest range of affordable massages and treatments available on Maui. From Lomi Lomi and other massages to facials, foot massage treatments, and waxing services, you can spend a couple of hours or all day being pampered in one of Maui's most comfortable places. With a convenient location, relaxed atmosphere, and friendly staff, you can indulge in more than one of their treatments for a better price than the bigger hotel spas. Zensations Spa is open Monday through Saturday from 10 am to 5 pm, by appointment only.
Enjoy The Valley Isle's Best At Hana Kai Maui
When you're ready to visit Maui, call to book your next reservations at 1-800-346-2772, or book directly online. We're open from 8:00 am to 8:00 pm Hawaii time to answer all of your questions. Get in touch today to begin reserving your visit to Hana Kai Maui.